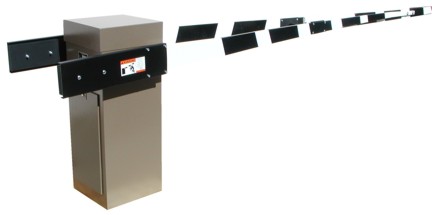 INDUSTRIAL BARRIER GATE
Model 350 (18, 20 & 22 Foot Arms)
Provides access control wherever it is necessary to check entering or exiting vehicles for identification or inspection. The gates may be controlled from stations directly adjacent to gate location or from remote areas. Ideally suited for military bases, nuclear power plants, shipyards, airport freight depots, industry, munitions plants, mines, etc.
SPECIAL APPLICATIONS ONLY - CALL FACTORY FOR DETAILS
FEATURES:
100% Solid State Plug-in control circuit.

Theft and tamper resistant, no exterior mounting bolts.

Different gate arm lengths. Three models are standard, other lengths are available, depending on the width of your roadway.

Heavy duty mechanism. A heavy duty, long life reduction mechanism provides the drive from the motor to the gate arm shaft.

Rugged, weatherproof, 10-gauge steel housing.
HOUSING:
The housing shall be weatherproof and constructed of ten (10) gauge cold rolled steel. All seams, joints and supports shall be electric bead welded. (Spot weld is not acceptable for the housing construction).
Access to the interior of the housing shall be provided by a key locked door. The door and the top lid shall be designed to retard against unauthorized entry, tampering and vandalism. An opening for conduit stub-ups shall be provided at the base of the unit.
The cabinet shall be finished with two (2) coats of primer, followed by two (2) coats of baked enamel to insure lasting beauty and protection.
MECHANICAL:
The gate arm shall be driven by a 1/2 horse power, 115 VAC single phase instant reversing motor. The motor shall be connected by a V-belt to a heavy duty, 60:1 ratio, single reduction speed reducer. The output shafts shall be connected by #50 chain and sprockets.
The motor shall not draw more than 15 amp surge current at 115 VAC. Adjustable cams shall be provided to allow for proper adjustment of gate arm travel.
CONTROL CIRCUITRY:
All control circuitry, logic, motor starting, etc., shall be contained in one (1) easily removable, semi-sealed, housing (hereafter referred to as the control logic assembly). All connections to the control circuitry compartment shall be made by plug-in connectors.
One (1) standard control logic assembly shall be capable of providing all system logic as well as manual functions and shall be of solid state design. No relays or contactors shall be accepted in this unit.
Operational mode changes shall be accomplished by dip switches located on the control board. No circuitry modification, addition or deletion shall be required to accomplish standard mode variations.
ELECTRICAL CHARACTERISTICS:
Phase input shall be fed through a series trip magnetic circuit breaker of UL approved type. This circuit breaker shall disconnect all cabinet power as well as offering electrical overload protection in the gear motor circuit and primary cabinet power circuits.